The Pole Vault competition from Tuesday was rescheduled for tomorrow morning. This is for High School Pole Vaulters and will start at 9 am in Yuma.
We will be at the school in 10 minutes with the JH track athletes. Please be there on time to get your athletes.
THE JH track bus is 10 minutes from Otis. Please plan accordingly and have a ride for your athlete.
UPDATE: we are leaving Brush right now. Please make sure you are at Otis at 3:55 for pick up and the school at 4:15.

Reminders: Juniors will be taking the SAT on Wednesday, April 13th Freshman/Sophomores will be taking the PSAT on Thursday, April 14th
REMINDER: HS track practice today at 11:30. HS pole vault practice today at 12:30. No JH pole vault practice. There is a. Change with tomorrows high school track meet in Yuma. It now starts at 9am with field events. We will be leaving the school at 8am. If you are meeting us in Yuma please make sure to let the coaches know.
UPDATE: 7th and 8th grade track meet in Brush on Monday. Bus leaves at 7 am from the school and there is a pickup in Otis at 7:15 am. Please contact Coach Serrato if you are planning on using the pick up in Otis. Please make sure your athlete is properly equipped. An update on arrival time after the meet will be sent through the app and Facebook. Please plan accordingly. The events of each athlete were sent to their emails.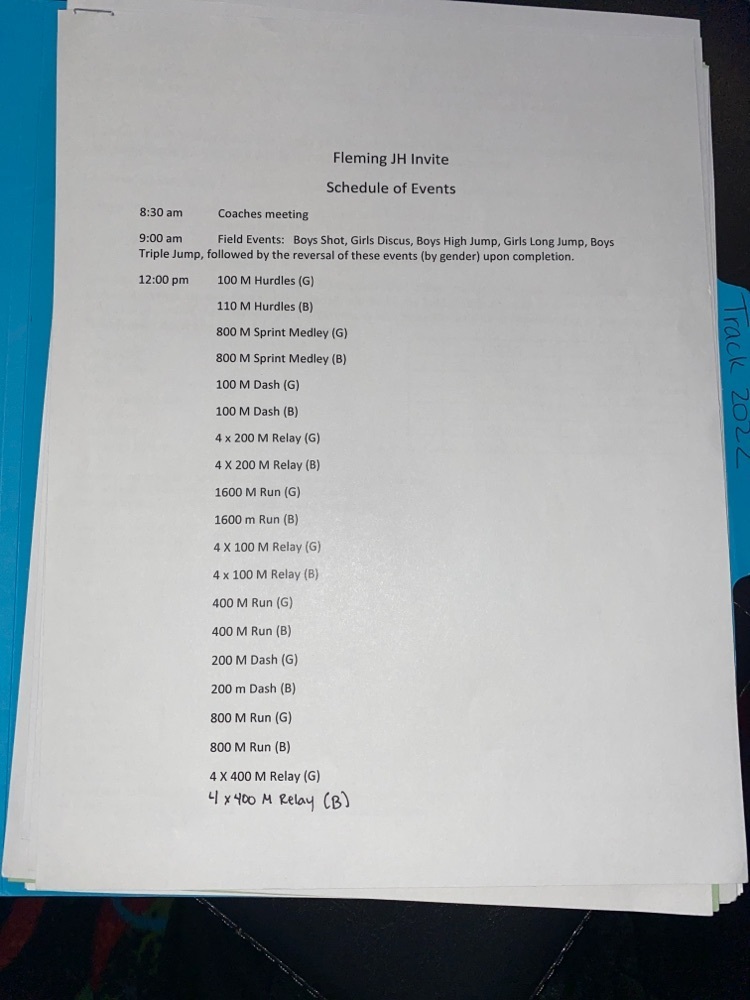 UPDATE: bus coming back to school with JH track athletes is just heading Haxtun. Please be at the school to pick up your athlete.
The JH track athletes will be back at the school at 7pm. Please make sure rides are there for prompt pick up. There are no drop off points. If you signed out your athlete you make take them.
UPDATE: Junior high track meet in Holyoke tomorrow. If you are driving your athlete to school please have them at the school no later than 7:25am . If your athlete rides a bus route, please send them on that route like normal. The bus will be departing immediately after all bus routes are present at the school. Please make sure your athlete is properly dressed and has a lunch, snacks, and plenty of fluids. Also please make sure they have their track jersey. Link for event schedule:
https://co.milesplit.com/meets/449761-holyoke-jh-invitational-2022#.Yk9Mm8BMElQ
Your athlete will bring home a card with their events that they are competing in tomorrow. MONDAY April 11th: junior high 7th and 8th grade track meet only in Brush. Details for that meet will be posted Saturday and your athlete will get an e-mail from Coach Serrato on what events they will be doing that day. Please contact Coach Serrato for any questions

All afternoon bus routes are cancelled today. School will dismiss at it's usual time. Parents, if you are able, please make arrangements to pick up your kids at the school. Please call the front office if you are unable so we can plan accordingly.

From Lone Star School: We have made the decision to cancel all afternoon bus routes. Parents, if you are able, please make arrangements to pick up your kids at the school. Please call the front office if you are unable so we can plan accordingly.

Lone Star School is aware of the road closures due to wind conditions. At this time, we will stay in session and keep students safe in school. If you want to come pick up your students, please feel free to do so. We will keep you updated !


The annual spring concert and pancake supper will be held on April 28th. The pancake supper will begin at 5:00 followed by the concert at 6:15. Adult meal- $5 Student meal- $4 Afghan and Lone Star sign raffle tickets will be sold at the door. All proceeds from the supper and raffle will go to the Curtis Dean Rhoades Scholarship Fund.
REMINDER: High school track practice at 11:30. JH and HS pole vault practice at 12:30
REMINDER: HS track athletes participating tomorrow. The bus leaves from the school at 6 am sharp and will be stopping in Otis for a pick up at 6:20 am. Go Longhorns!
Track athletes : tomorrow there is high school track practice starting at 11:30 am. JH and HS pole vaulters there will be pole vault practice starting at 12:30pm.
High school track members: the bus for Yuma will leave from the school tomorrow at 8:30 am sharp. The ones that are meeting in Yuma need to be at the track by 9:00 am. Bring jersey, food and drink, and money if needed. Field events start at 10:00 am and running events start at 11:00am.

Tuesday, March 29th the 9th-11th grade will be going to Otis for a mock crash simulation from 12:30 to 3:00. This is presented by the Otis Fire Department, Colorado state Patrol, and the Washington County EMS. If you would not like your child to attend please call the front office.