Reminder for physicals tomorrow at the Yuma Clinic starting at 1pm. Students must be accompanied by a parent. You can use the physical form that they have on hand at the clinic. Physicals are Free.
REMINDER: JH girls have summer league basketball Monday at 3:30 at NJC. The bus will leave Lone Star at 2:30. After the game, the girls will then head to their volleyball games.
REMINDER FOR JH LEAGUE VOLLEYBALL: Tomorrow we play at 4:45 and 5:30! It's still at Sterling High. Please bring the blue papers back Signed and ready to turn in. Also if they did not pay last week please pay this week it is $25 a player. We need to make sure we're turning those things in to the Director of the league so we are not late on anything! We are working to get a shuttle from the school to Sterling and back to the school. A notification will go out as soon as we have it figured out. HS GIRLS VOLLEYBALL: Wednesday night we still have league at NJC. The schedule of games will be sent out tomorrow. Please contact me if you plan on being there!
REMINDER JH VOLLEYBALL LEAGUE: Tomorrow we play at 4:45 and 5:30. Please remember if your player brought home a blue paper to get signed that they bring that tomorrow. They also need to bring $25 of they haven't paid the fee last week. HS VOLLEYBALL GIRLS: The schedule will be sent out tomorrow for this Wednesday. Please contact me if you are planning on making it.

Reminder for JH boys open gym 3-5 pm, Hs boys Open gym 5-7 pm tomorrow.
REMINDER: JH girls basketball team will be leaving from lone star at 2:30 with a game at njc at 3:30. HS basketball girls will meet at njc by 5:15 for games at 5:30 and 8:30. JH volleyball players are also leaving that this time and on the same van! HS volleyball girls: no league this Wednesday (June 9th). NJC is redoing some flooring! BOYS BASKETBALL REMINDER: JH boys refresher 3-5 pm, Hs boys Refresher 5-7 pm tomorrow.

To clarify: Mahiro's party is today at 3:30-5:30 pm (time was changed due to the bowling alley hours)

Time change: the party has changed to 3:30-5:30 PM To all LS high schoolers: please note there is a time change for Mahiro's bowling party tomorrow; we had to move it to 3:30-5:30 pm because of scheduled power outages in Sterling. We know this not ideal for those with jobs but we will see you at Ice Lanes if you are still able to attend!

The basketball refresher tomorrow is for girls only.

REMINDER: JH basketball refresher camp for those who are wanting to play summer league is tomorrow June 3 at 10 am-noon and HS basketball refresher camp is from noon-2 pm

Attention all High school students: There is a change in time for Mahiro's bowling party tomorrow. It will be from 4-6 PM at Ice lanes in Sterling. (this is due to a scheduled power outage in Sterling).

Bus Routes will run at 1:00 PM today. Please plan accordingly. Have a great summer. Go Longhorns!

The busses will be running about 15 minutes late today.

Looking for a fun summer activity? Lone Star is hosting an Art camp. See attached information.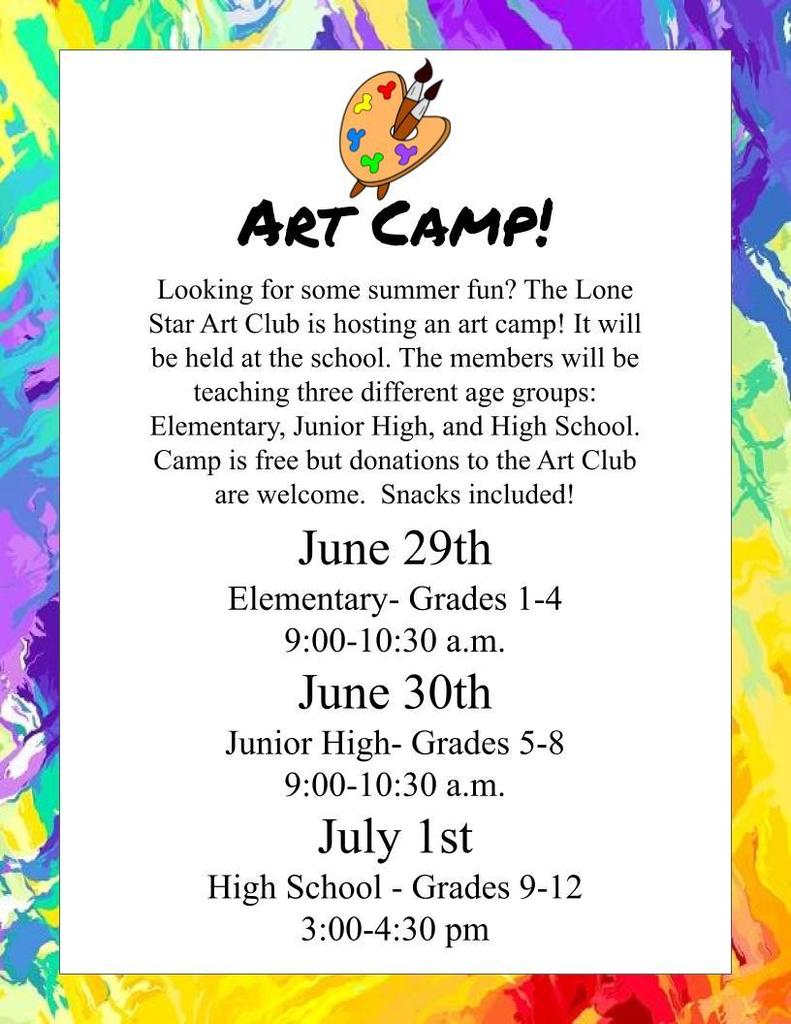 The Bus routes will be running about 10 minutes late today.

Bus Routes may be a bit later than usual tonight. (Rocky and Vicky's buses only) Reminder: JH and HS Volleyball Pictures tomorrow as well as JH and HS Track Pictures. Please plan accordingly

Enrollment packets are being sent home with one of your students. Please fill it out crossing out any changes and writing in correct information. Please make sure that you are filling out both sides of paperwork and have student return to the school. Reminder: If you plan on having your student get a physical at Yuma MS on June 16th in the afternoon, please let Janet know ASAP.

Events for the final week of school: 5/25 - HS pole vault @ Kremmling JH spring fling to Sterling 5/26- K-2 field trip to the Butterfly Pavilion 5/27- HS track @ Holyoke 3-4 field trip to Fly High JH and HS academic awards @ 6:00 pm 8th grade Promotion @ 7:30 5/28- Last day of School Elementary Academic awards @ 8:00 am followed by field day Community BBQ- All are Welcome!

For Tomorrow: HS track team is now leaving at 6am. There will be a pick up in Otis at 6:15

All running events for the junior high track meet will begin at 2:00 today.