From Coach Serrato: all junior high Volleyball players need to at the school at 12:15. Please dress in nice jeans and a nice shirt. All high school players be there by 1 PM, also in a nice shirt and nice jeans.

If anyone is interested in line judging for tomorrows' game please let Janet know. Game tomorrow is at 1 PM and we are playing JH B, JH A and Varsity. Have a great weekend.

We have had some major changes in our VB schedule and it continues to change. Thank you all for remaining flexible during this time.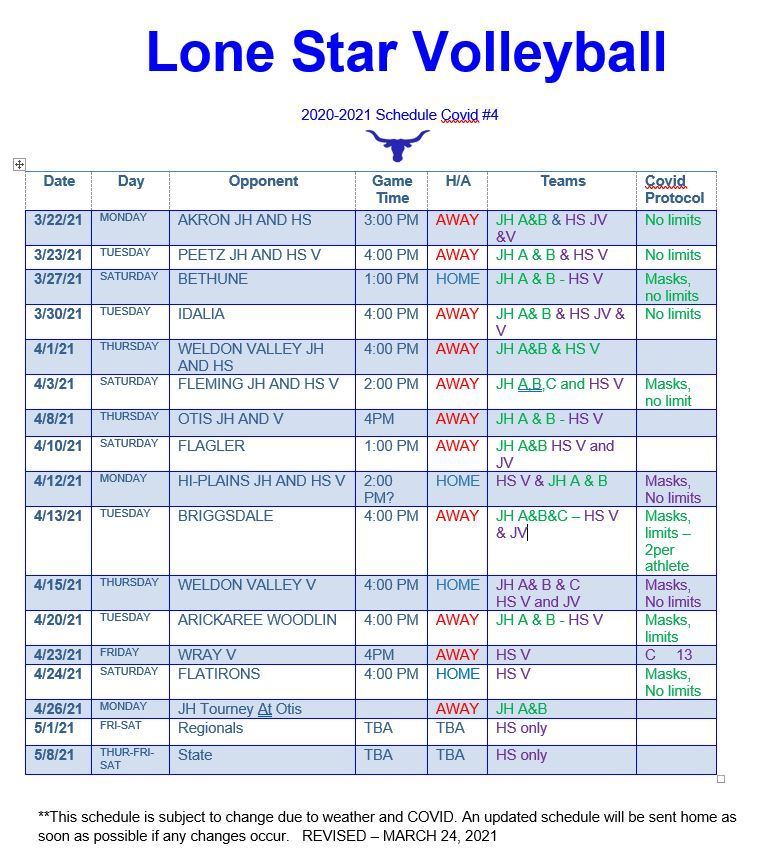 From Lone Star School District: Reminder - Class Pictures are tomorrow, your student should be bringing home the form tonight. From Lone Star Athletics: upcoming games - Saturday, March 27th VB starting at 1pm at Lone Star. JH B, JH A and Varsity. Masks please, no fan limits. Tuesday, March 30, VB at Idalia at 4PM, JH B, JH A, JV and Varsity - Masks please and no limits on fans.

From Lone Star Volleyball: Coach Serrato would like all players in high school and junior high to attend the game tomorrow even if they will not be playing. Also please dress up, no jeans.

From Lone Star School: Tomorrow is our first day back from spring break. JH And HS volleyball at Peetz at 4PM. Tomorrow. JH B team and A team and HS Varsity will be playing. There will be a gate fee to get in but we will not have limits on fans! Prices: $5/ adults and $3/ kids/ students.

From Coach Serrato: reminder all JH volleyball player need to dress up for tomorrow's game and Tuesday's game.

Monday's volleyball game at Akron is at 3:00 pm starting with B team. There will be A and B junior high and Jv and Varsity for high school. We will be leaving the school at 1:30 pm but high school needs to be there at 11:45 for a walk through and Junior high needs to be at the school at 12:45 to get their jerseys. If you are planning on meeting the bus at Akron it needs to be approved through Janet and Coach Serrato as well as riding back after the game arrangements. For junior high meeting at Akron, your jersey will be brought to you. Monday March 22nd JH Vball V Lone Star-C,B,A 3pm start HS Vball V Lone Star 5:30 pm start JV & V Masks need to be worn. fans will sit on the east side of the court. No gate restrictions

Game time has been Confirmed for Tomorrow. HS girls basketball play at Kit Carson at 5pm on March 11.

Lone Star HS girls Basketball team won in Round 1 against Kiowa. We are playing Tomorrow March 11 at Kit Carson. Tentatively at 5:00 PM, but we are waiting on confirmation from referee's. Each Athlete can have 4 Guests. Please Contact the school today with your guest names. 848-2778 or text Janet 466-0090.

FYI: Today's game for our HS girls basketball team is the first round of a 32 team bracket State Tournament (top 8 teams get a bye) This year due to Covid, we will not have a regional tournament but go straight into this bracket. A win today would have us play Thursday March 11th. Today's game is at 5PM at Lone Star vs. Kiowa Indians.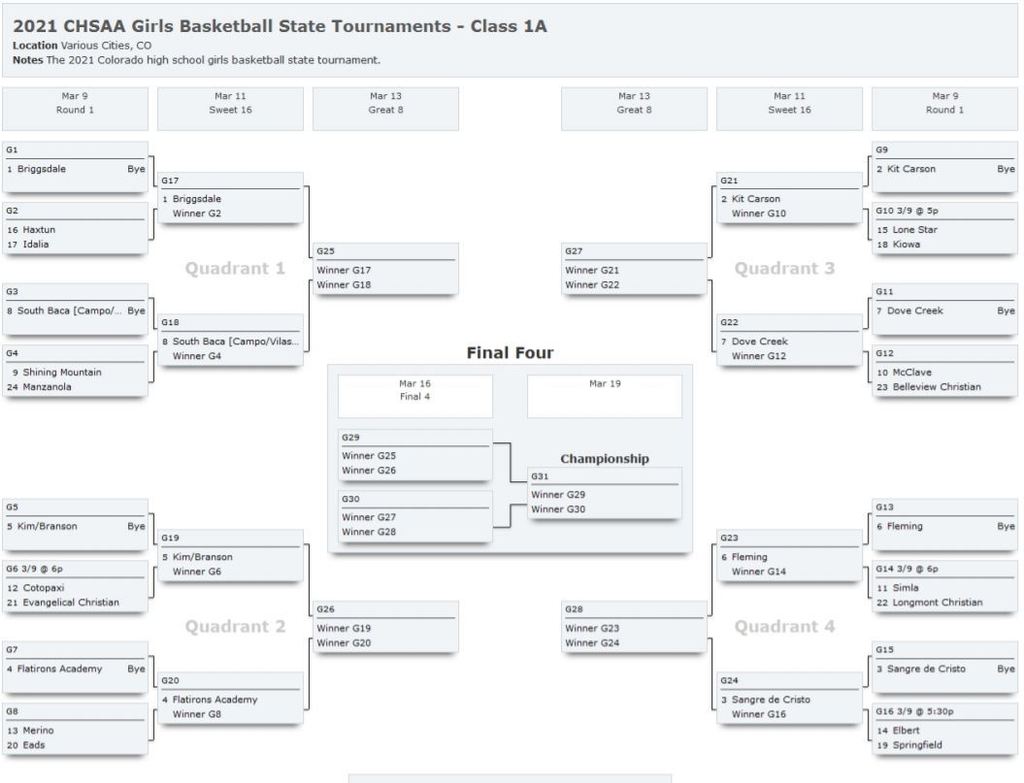 From Lone Star: The girls Basketball game has been officially scheduled for 5PM tomorrow at Lone Star vs. Kiowa.

CHSAA has posted the Bracket for state basketball. Our Lady Longhorns will play tomorrow March 9th at Lone Star vs. Kiowa Indians. Game time is being determined right now and is dependent on Referee's. Will post time as soon as we get confirmation.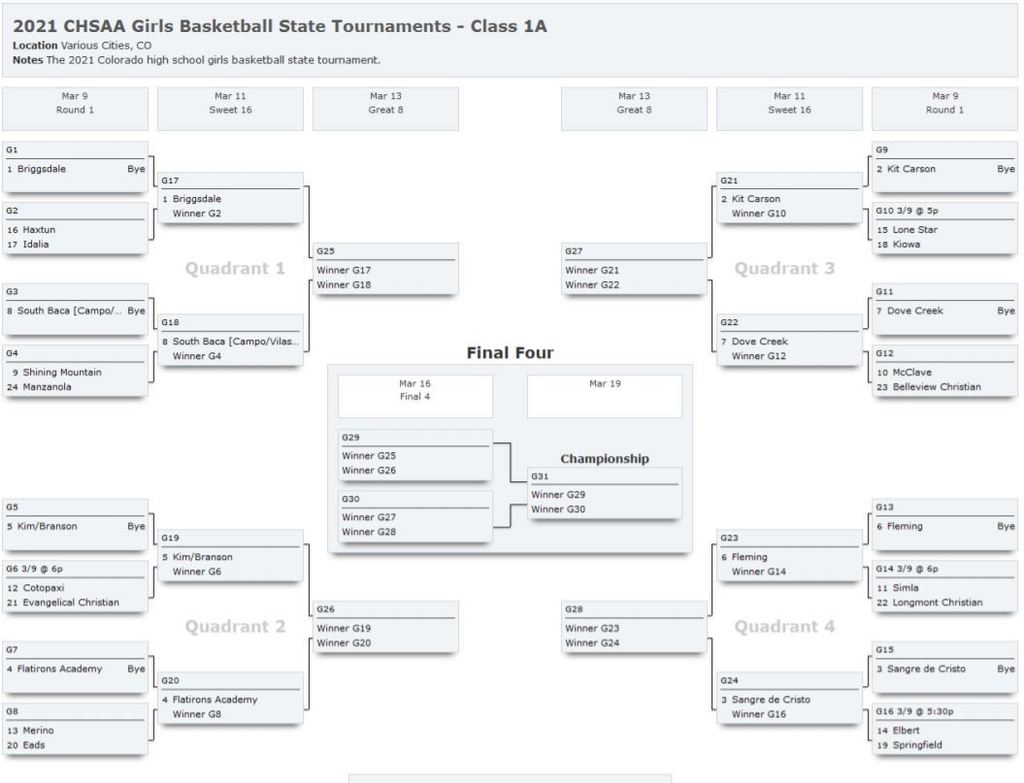 Lone Star FBLA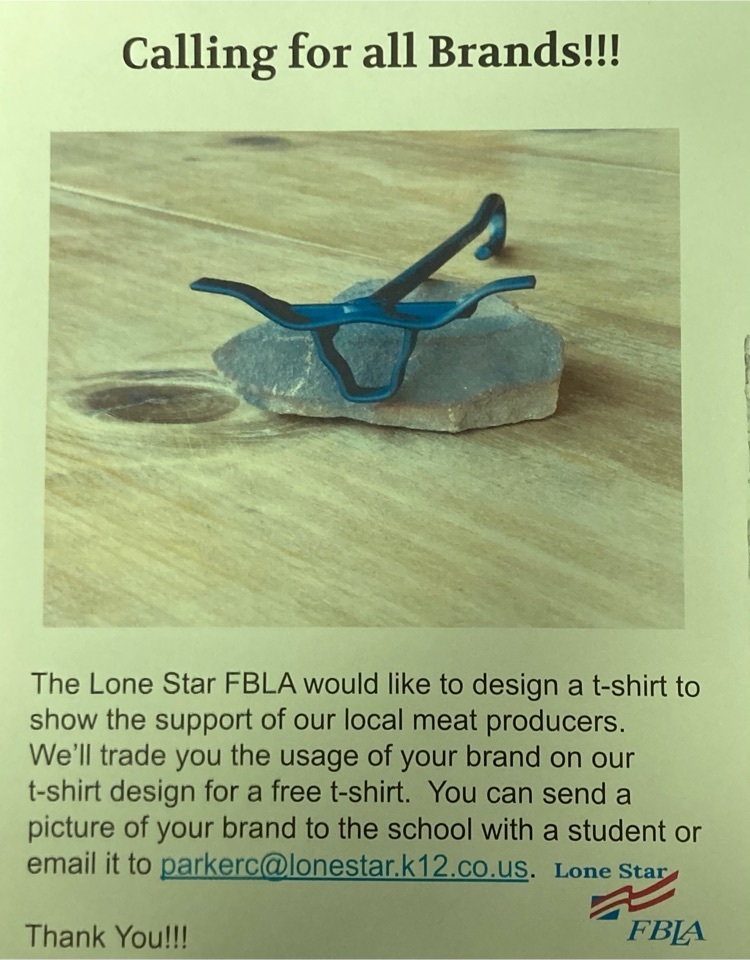 REMINDER: We will be celebrating all our Parents today. JH Girls basketball starts at 11AM followed by JH Boys. We will honor our JH parents between these games. HS girls start at 1 PM followed by the boys and we will be honoring their parents between those games. On Monday March 8th, Lone Star is hosting the JH basketball tourney. Our Girls teams plays at 2pm followed by the boys. If they win, they will play again after these games.

CHANGE for the JH basketball Tourney Venue. YWKC North Tourney will be played at Lone Star on Monday March 8th. We will start the first game at 2pm with Lone Star Girls playing the Otis Girls. Lone Star Boys to Play Otis boys at 3:15 pm approximately. Winner of each of those games would go on to play Arickaree Woodlin at approximately 4:30 and 5:45. Thank you for your continued flexibility in these trying times! Go Longhorns!

Update! - Tomorrows BB game has been moved to 5:00pm. Saturday - parents night - JH 11:00 am and HS 1:00pm Monday - JH BB tourney at Woodlin School. Girls Start at 1 followed by boys. If you have not sent the school your 3 guests for the tourney for your athlete please as soon as you can. Tomorrow is Blue and Yellow day!


JUNIOR HIGH BASKETBALL TOURNAMENT - March 8th at Woodlin School 15400 Co Rd L, Woodrow, CO 80757 LONE STAR SCHOOL is in SESSION on Monday! 3 fans per student athlete- Masks are required - auxiliary seating will be provided in the patio/auditorium for parents of athletes not playing. Please contact the school or Janet with the names of your guests for the games. game 1 1:00 pm Lone Star girls(visitors south bench) vs Otis girls (home north bench) game 2 2:15 pm Lone Star boys(visitors south bench) vs Otis boys (home north bench) game 3 3:30 pm winner game 1(visitor south bench) vs Woodlin girls(home north bench) game 4 4:45 pm winner game 2(visitor south bench) vs Woodlin boys(home north bench) Please understand that start times of the games are approximate after the first game.

Homecoming Week Schedule - WELCOME to the DECADES!